Cable Management 101: How To Do It Right The First Time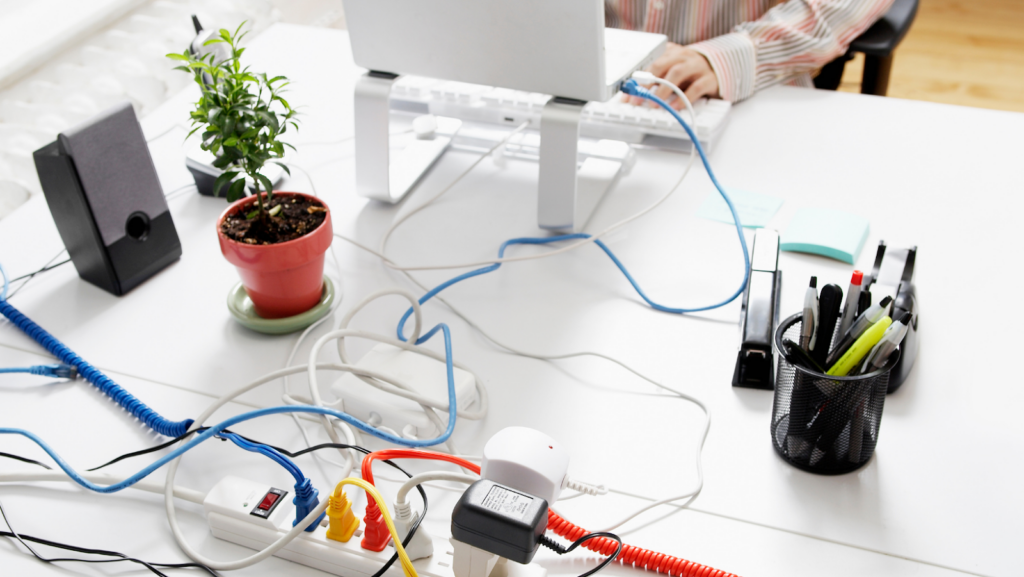 Cable management might not be the most exciting part of setting up a new PC, but it's definitely one of the most important. A well-organized setup will not only look great and be much easier to work with, but it will also help improve airflow and prevent potential hardware issues down the road. In this guide, we'll show you some basic tips and tricks for getting your cables under control. Let's get started!
What is cable management and why do you need it?
Cable management is the process of routing and organizing your PC's cables in a tidy, unobtrusive way. This not only makes your setup look much nicer, but it also helps improve airflow and can even boost performance. In fact, good cable management is one of the most important aspects of building a well-cooled gaming PC.
Good airflow is essential for keeping your PC cool and preventing overheating. When your components are crammed into a small space with little room for air to circulate, they can get very hot very quickly. This can lead to all sorts of problems, from stability issues to premature hardware failure. By contrast, a well-ventilated PC with good airflow will run cooler and be much more reliable in the long run.
Cable management tools and supplies
Before you start taming your cables, you'll need to gather some supplies. Here's a basic list of what you'll need:
Cable ties: These are essential for holding groups of cables together. You can find them in various sizes, so be sure to get ones that are appropriate for the thickness of your cables.
Zip ties: Similar to cable ties, zip ties can be used to hold cables together. However, they're not as adjustable, so you'll need to be careful not to make them too tight.
Cable clips: These are great for routing cables along the edge of a desk or table. They keep your cables from slipping off and make it easy to adjust their position if necessary.
Cable saddles: If you need to run cables underneath a desk or table, cable saddles are a great way to do it. They keep your cables organized and prevent them from getting pinched or damaged.
Wire loom: This is a flexible tubing that you can use to enclose groups of cables. It's not strictly necessary, but it can be helpful for making your cables look neater and more organized.
How to cable manage a pc
Now that you have the necessary tools and supplies, it's time to start cable managing your PC. Before you start routing cables, it's a good idea to remove any existing ones that you don't need. This will give you a blank canvas to work with and make it easier to find the right placement for your cables.
Once you have a clean slate, it's time to start planning your cable routes. You'll want to consider how each cable needs to run and where it needs to connect. It can be helpful to sketch out your plans or use tape to mark the desired routes. With your routes planned, it's time to start running your cables. Start with the longest or most important ones first and work your way down to the smaller ones.
Be sure to leave some slack at each connection so that you can move things around if necessary. Secure your cables in place with zip ties, cable ties, or clips. This will help prevent them from getting dislodged or tangled. If you're using wire loom, slide it over your cables and secure it in place. Finally, tidy up any loose ends and put everything back in its place.
Tips for preventing cable clutter and damage
Here are some additional tips to help you keep your cables tidy and in good condition:
Use Velcro straps to bundle together groups of cables. This makes it easy to add or remove cables as needed and keeps them from getting tangled.
Get creative with your cable routing! You can use zip ties or clips to run cables along the underside of a desk or table, through the legs of a chair, or even along the wall.
Be careful not to over tighten zip ties or cable ties. This can damage your cables and make them more difficult to remove later on.
Use wire loom or PVC tubing to protect your cables from sharp edges. This is especially important if you're running cables through tight spaces.
Use cable clips or saddles to keep your cables from getting pinched or damaged.