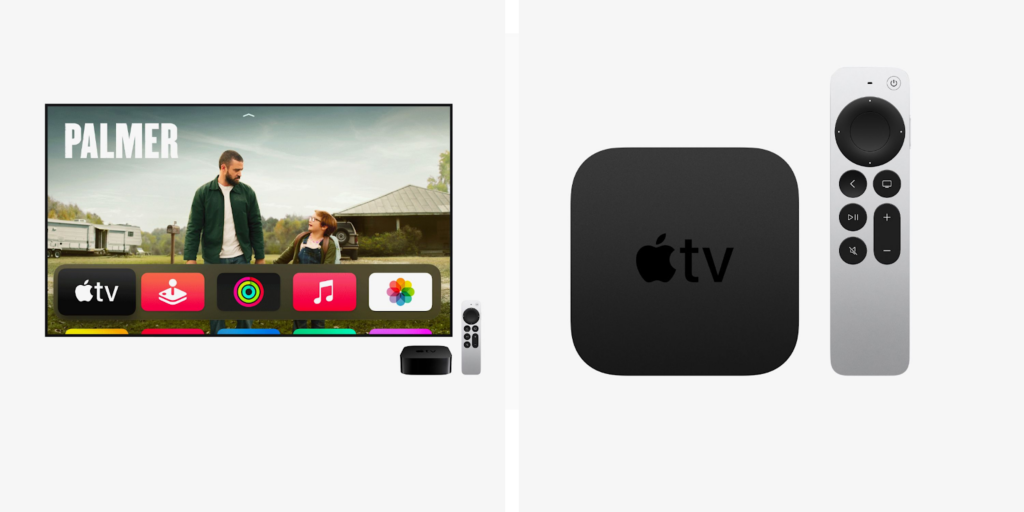 Apple TV is a digital media player and microconsole developed and sold by Apple Inc. It is a small network appliance and entertainment device that can receive digital data from a number of sources and stream it to a capable television. Apple TV is an HDMI-compliant source device. To use it for viewing, it has to be connected to an enhanced-definition or high-definition widescreen television via an HDMI cable. The device has a USB 2.0 port, Ethernet port, and built-in 802.11n Wi‑Fi and Bluetooth 4.0 wireless technologies. It runs with a 64-bit Apple A5 single-core processor and has 8 GB of internal flash memory.
Apple TV was unveiled as a work in progress called "iTV" on September 12, 2006 using a modified Front Row interface and it was officially renamed to Apple TV on January 15, 2007. The first generation Apple TV was released on March 21, 2007 with a 40 GB hard disk. On January 28, 2008 a software update brought the ability to rent and purchase content directly from the iTunes Store, as well as podcasts and photos from MobileMe or Flickr. The second generation Apple TV was unveiled on September 1, 2010.
How to connect apple tv to tv without hdmi
If you have an Apple TV (2nd or 3rd generation), you can use an HDMI cable to connect it to your TV. But if you don't have an HDMI-compatible TV, you can use an Apple Digital AV Adapter to connect your Apple TV to your TV's component video input ports.The Apple Digital AV Adapter also has an HDMI port, so you can use a standard HDMI cable to connect it to your TV's HDMI input port.
You can also use the Apple Composite AV Cable to connect your Apple TV to your TV's video input port. The Apple Composite AV Cable has three connectors: red and white for audio, and yellow for video.
What are the benefits of using apple tv
Some benefits of using apple TV include the ability to:
Access a wide range of digital content, including movies, TV shows, music, and games
Stream content from your iPhone, iPad, or iPod touch to your TV
Use AirPlay to mirror your device's display on your TV
Share photos and videos with friends and family
Play games on your TV using the Apple TV remote or an iOS device
Turn your TV into a digital picture frame
What are the drawbacks of using apple tv
There are a few potential drawbacks to using Apple TV, including:
The cost of the device itself and any required accessories
The need for a compatible television or display
Potential issues with streaming content if you have a slow or unreliable internet connection.
How to set up and use apple tv
Here are some general instructions for setting up and using your Apple TV:
Connect one end of an HDMI cable to the HDMI port on the back of your Apple TV, then connect the other end to the HDMI port on your TV.
If you have a 4K- or HDR-compatible TV, you might need a different HDMI cable. Check your TV's documentation for more information.
If you're using an AV receiver or sound system, make sure that it's turned on and set to the correct input.
Use the remote that came with your Apple TV to navigate to Settings > Remotes and Devices > Remote App and Devices, then select your iOS device from the list.
Follow the prompts on your iOS device to complete the setup.
Once your Apple TV and iOS device are connected, you can use the AirPlay feature to stream content from your device to your TV.
To learn more about using Apple TV, explore the built-in App Store or visit the Apple TV Support website.